DJ Zedd has been one of the most prominent figures in the EDM scene since the release of his debut album "Clarity" in 2012. Born Anton Zaslavski in Russia in 1989, Zedd moved to Germany as a child and began his musical career by playing drums and learning piano. After discovering electronic music at the age of 12, he started creating his sound, experimenting with multiple genres and fused them to create something entirely new and exciting.
Zedd's rise to stardom was nothing short of meteoric, rapidly establishing himself as a major player in the industry and earning critical acclaim for his innovative and distinctive sound.
The release of "Clarity" in 2012, the lead single that featured British singer Foxes was the beginning of a career that has delivered hit after hit and established him as a dominant force within the industry. The song not only went to number one on the charts but also earned Zedd a Grammy Award for Best Dance Recording in 2014, setting the foundation for his continued success in the music industry.
Since then, Zedd has released multiple critically acclaimed albums and collaborated with some of the most significant music industry figures, including Katy Perry, Liam Payne, and many others.
His latest album "Orbit" features several collaborations and has been one of his most innovative works yet, blending different genres into a distinct and dynamic sound that continues to raise the bar for EDM producers.
Zedd's music has always bridged the gap between musical genres, and he has frequently incorporated rock, pop, and classical music into his tracks in exciting and original ways, winning him a vast audience of fans worldwide. DJ Zedd is known not only for his music but for his state-of-the-art live performances as well. He is renowned for his electrifying shows, which are packed with high-energy music and stunning stage productions. He has performed at some of the most notable festivals worldwide, including Coachella and Ultra Miami, and has toured extensively throughout North America, Europe, Asia, and South America.
Zedd's accomplishments in the music industry have earned him numerous accolades, including 1 Grammy Award, 2 Billboard Music Awards, and many others. His continued success is a testament to his creativity, innovation, and commitment to his art.
Despite his achievements, Zedd remains humble and grounded, consistently working on creating music that is both unique and authentic. He frequently interacts with his fans through social media, and his contributions to the EDM scene have had a significant impact on the industry as a whole.
In conclusion, DJ Zedd's incredible journey and contribution to the music industry are inspiring, and his story continues to be written. His dedication to his craft and his ability to create compelling, genre-defying music have earned him a place in this music's history, and he has unquestionably proved himself to be one of its most talented and enduring performers.
Ivan Dorn has unearthed a powerful new R&B-tinged synth-funk single, 'Love Could Be'. You can listen to it on DJ-Follower below.

The Kyiv-based pop polymath's astounding vocal – up there with the great Anderson .Paak's most soulful side – beautifully captures a sense of lost love.

And we're spoiled as this eloquent, evocative lyricism is pinned to a timeless topline melody. Dorn the DJ star and frontman's career-best? Quite possibly. Even when we're taking into account the quality of his three studio albums, which have made him one of the biggest artists in Ukraine, and hugely popular in many neighbouring countries, new single 'Love Could Be' stands out as a great song in an immense body of work. It's like a freak creative moment which can't be dialled in.

Of how 'Love Could Be' came together, a press release states that it's a paraphrase of Dorn's early career Russian language cut ('Northern Lights', 2011), which you can hear.
But this iteration – with its soulfully-blown flugelhorn, analog synths older than Dorn himself, and funky slew of drum machines – benefits from a more deftly constructed wall of sound than 'Northern Lights'.
'Love Could Be' is streaming now below
Helping achieve this was mastering engineer Mark Christensen. The studio legend, who's completed tracks by the likes of 50 Cent, Raekwon, The Killers and Trey Songz, does brilliantly to fluff out these details and helps us listeners inhabit the soundscape.

Prolific production credits are then matched by an impressive early presence on Spotify. We can glean from Dorn's socials that in the short few days that 'Love Could Be' has been released (it was dropped on 19 July), it's landed on the first-ever New Music Friday Ukraine, generating thousands of streams and setting the precedent for more success to come.

As for the artist's next steps, we'll have to wait and see. But, we suspect even more new material soon. He has an air of an artist on the rise, busily releasing music throughout 2020, despite his touring wings being clipped by Covid-19. It's been no meagre offering, either: the impressive EP Numbers – a collaborative effort with Seven Davis Jr. – saw support come from the likes of Clash, Under The Radar, and Louder Than War, as well as huge support from fans. And that's before we remember 'Chiki', a leftfield electronic banger; and a CGI video for OTD album cut 'Wasted'. All well worth checking out. Ivan Dorn is star quality through and through.
Connect with Ivan Dorn on social media:
Instagram"
Facebook
TikTok
Twitter

Ivan Dorn is performing live later this year. Ticket information can be found here
12 November – Vilnius, Loftas
13 November – Riga, Palladium

"For my generation specifically, social media has been terrible."
"I think our world is going through a lot," Gomez said at a press conference in the South of France on Wednesday morning. "I would say for my generation, specifically, social media has really been terrible. It does scare me when you see how exposed these young boys and young girls are. They are not aware of the news. I think it's dangerous for sure. I don't think people are getting the right information sometimes."

Gomez has more than 150 million Instagram followers, but she said that she's learned to be selective about what she posts. "I think it's pretty impossible to make it safe at this point," Gomez said. "I'm grateful I have the platform. I don't do a lot of pointless pictures. For me, I like to be intentional with it. It just scares me. I'll see these young girls at meet and greets. They are devastated, dealing with bullying and not being able to have their own voice. It can be great in moments. I would be careful and allow yourself some time limits of when you should use it."

The 26-year-old added that despite living online many young people were unaware of important news issues.

"It's a useful platform but it does scare me when you see young boys and girls not really aware of the news going on," she added.

"It's selfish – I don't wanna say selfish, that's rude – but it's dangerous for sure."

Gomez who has 150 million Instagram followers, was last year overtaken by footballer Cristiano Ronaldo as the most followed person on the platform, and she has previously taken lengthy breaks from social media.

Directed by auteur Jim Jarmusch, The Dead Don't Die stars Gomez, Bill Murray, Tilda Swinton, Chloë Sevigny and Adam Driver and tells the story of a picturesque American town that becomes overrun with zombies after "polar fracking" tilts Earth off its axis.

"Women have been making films for 11 decades now," Swinton said. "There are countless films by women. The question is why don't we know about them.

"You have a great master like [Ukrainian director] Kira Muratova, who died recently. Her obituary was that size in most national newspapers," she added, squeezing her fingers together. "Whereas the great male masters, when they pass on we'll have whole issues dedicated to them."

"Two days before Dodger Stadium, I was having my stomach pumped."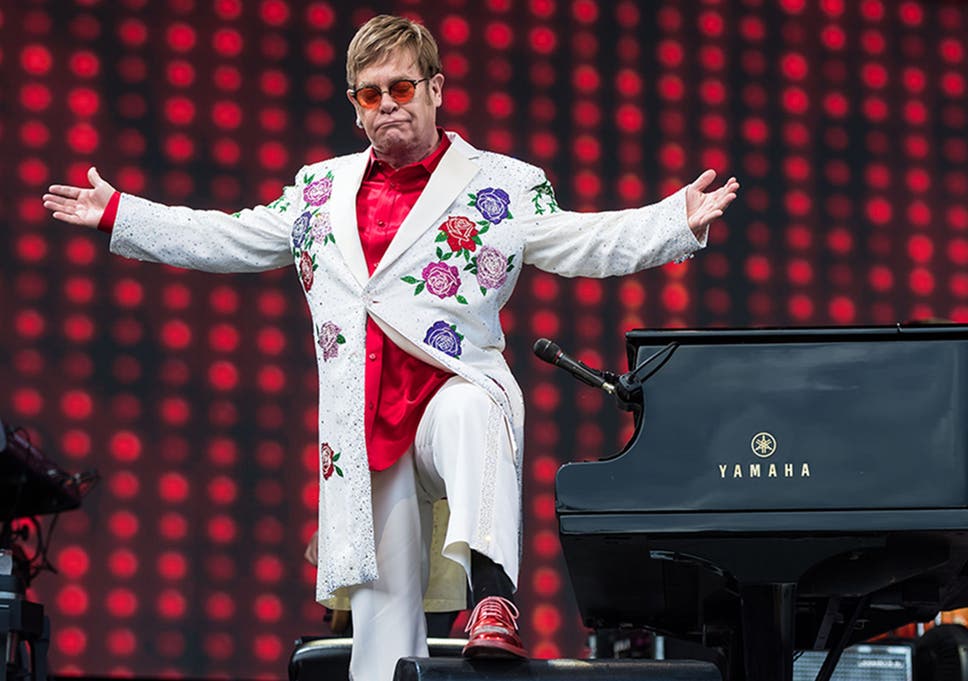 "You can say that I'm resilient and that's one thing. I'm resilient," he adds. "I wasn't gonna pass by the opportunity of playing that great stadium for two days…It was [the] highlight of my career to play Dodger Stadium, [are] you kidding me! But I was not mentally well before that."

Rocketman's star, Taron Egerton, joined John for ET's interview and discussed singing the GRAMMY winner's classic tracks for the film. "I have to say, in our movie, 'Your Song' is a bit of a triumph as a storytelling moment," he weighs in.

"I'm the one singing, but it's actually Bell's work too," Egerton says of co-star Jamie Bell, who plays John's friend and longtime songwriting partner, Bernie Taupin. "He's a beautiful singing partner in the movie and he pays attention wonderfully. It's a real moment, a real celebration of Elton and Bernie's friendship."

John chimes in: "I haven't seen the movie [yet], but I've heard the music and [Taron] has done the most phenomenal job with the music. Our songs are not easy to sing. They're not. They're quite complicated. 'Don't Let the Sun Go Down on Me,' 'Tiny Dancer' aren't straightforward songs to sing. He really put every fiber of his body into that, into the singing, let alone the acting. He's worked double hard."

Cannes holds a special significance in John's career. The premiere of Rocketman is his latest milestone, but it is also where he filmed the music video for "I'm Still Standing" in 1983. When ET reminded him of this, it prompted a thoughtful reflection on his career and overcoming personal demons.

"My life has been a miracle," he says. "It's been a series of serendipity and luck and good fortune and brave decision, but sitting here in this room now, the movie is showing tonight, it is surreal. Because what I've tried to do to myself, I shouldn't be sitting here and I've been very, very lucky in that."

"I suddenly realized that I had two choices: one was to die, one was to live," John explains. "And it took me 16 years to ask for help. To say three words: 'I need help.' Because I was so proud. I knew I had a problem and I was really unhappy with myself, so I was ashamed of myself."

"yo te quiero, yo te quiero tanto" (I love you, I love you so much)
Livan Rafael Castellanos had accused Shakira and Vives of plagiarizing his 1997 song "Yo te quiero tanto" in their award-winning hit "La Bicicleta."

"I have nothing against Shakira, Vives or anybody else," Livam told Associated Press. "It's the law that needs to decide whether changing a song's key is enough to make it different."

Livam, who works in Madrid as a composer and producer, said his three-year-old daughter identified her dad's melody in La Bicicleta when the family heard the hit on a radio during a beach holiday last summer.

A legal representative for Sony ATV Music Publishing in Spain, which represents Shakira and Castro, said the company couldn't comment as it had not received notice of the lawsuit.

SGAE, the main society managing the rights of authors and publishers in Spain, said it had suspended the rights of the song following the association's usual procedure when two of its members lodge a complaint.

This is not the first time Shakira has faced allegations of plagiarism.

In 2012, the Dominican singer and composer Ramón Arias Vásquez – known as Arias – accused the Colombian superstar of copying one of his compositions in her 2010 hit Loca.

Although a US judge initially ruled that Shakira's song was indirectly copied from Arias' song, he later dismissed the copyright infringement case on the grounds that Arias had lied to the court and that the cassette tape on which he had based his claims was a fake.
"It's like they're touching one of my children…they're stealing from me."
In 'La Bicicleta,' Vives and Shakira sing the Spanish generic phrase, 'Que te sueño y te quiero tanto' (I dream of you and I love you so much). In 'Yo Te Quiero Tanto,' Livam sings an equally generic phrase, 'Yo te quiero, yo te quiero tanto' (I love you, I love you a lot).