"There's new music coming sooner than you think."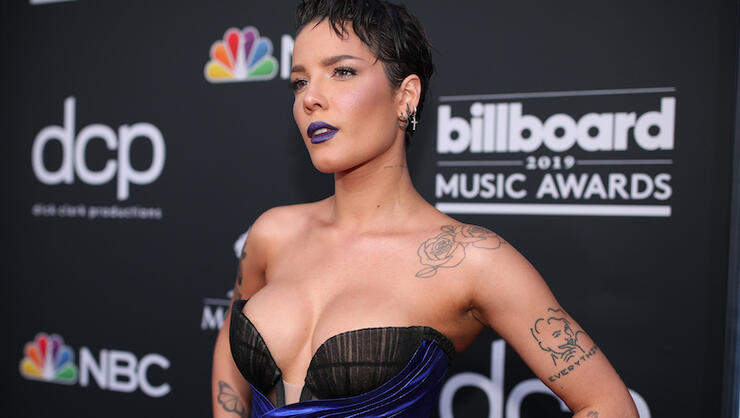 Get ready, music fans! Halsey is coming at us with a brand new era of music, it's going to be a good one. Fans of the singer have known for quite some time now that she's been working on her third studio album, but they were still left wondering when more information about this album would come to light.
Halsey's cryptic teasing continues as fans have begun to direct their attention to the musician's Twitter and Instagram bios. In her bios, there is a link that directs fans to a site where they can sign up for email alerts and proceed to share what their worst nightmare ever was.
Then, as fans choose from a series of options such as "falling," "demons/ghosts," "natural disaster" or "loved one dying," the site tells them an interpretation of their worst nightmare.
That said, fans have begun to speculate the creepy link has something to do with new music on the horizon. Additionally, some think the teasers imply a darker era ahead.
But Halsey remained tight-lipped about the date up until the dramatic reveal. In a fan-captured video of the star leaving her first show at Webster Hall on Wednesday, Halsey told fans that "there's new music coming sooner than you think." But when asked if the May 17 rumors were true, she simply responded "I have no idea what you're talking about."
You can see what your nightmares mean here.
ORIGINAL STORY: MAY 2, 2019, 12:24 A.M. EST
After purging her social media last night after the Billboard Music Awards, Halsey just announced two intimate shows on her Instagram to celebrate the reopening of famous New York venue Webster Hall.
As previously noted from a fan theory, it appears as though the musician may be playing Badlands and Hopeless Fountain Kingdom in full. The venue confirmed the full album performances shortly after Halsey revealed her crytic posts.
"But she can't sit down in the car, so she's half laying down and has her makeup artist and stylist controlling her body."
Often, the first thing I do after reading a book by a musician is head straight to Wikipedia to get the real story with some amount of objective distance. Seen from the inside, the life of a recording artist just doesn't make a lot of sense. Everybody wants to know how you made magic happen, and the answer is almost always messy — unless you're, say, Hall and Oates.
For her new novel Daisy Jones & the Six, Taylor Jenkins Reid has used the format of an oral history about a fictional band. On the face of it, it's an odd decision: there's no shortage of actual oral histories about actual bands with actual records you probably enjoy, and God knows those books don't lack for drama. So why make one up?
Think about it this way: Reid has written the oral history you want to read, the one where there are heart-rending untold stories about your favorite songs, the one that transforms the way you think about a band. Just because Daisy Jones & the Six aren't actual people doesn't make the story unsatisfying. After all, how real to you are the members of Fleetwood Mac?
It's through her writing that Jenkins Reid works to bridge that gap, taking readers behind-the-scenes of celebrity to demonstrate that just because something looks great doesn't mean it feels that way too. In 2017's The Seven Husbands of Evelyn Hugo, she explored the heartache behind the glamour of a '60s Hollywood starlet. And now, in her latest, Daisy Jones & the Six, she tells the whirlwind rise — and fall — of the titular fictional '70s rock group. (Amazon has already ordered a 13-episode limited series, executive produced by Reese Witherspoon.)
"All the women in this story have an ability to assert themselves and control the narrative in a way I'm really proud of," she says. "I don't want to uphold the status quo. With Daisy, I didn't want her sexuality to be determined by other people. We've seen that. I want a rock star who is 100 percent proud of her body and I want my daughter to live in a world where these stories exist. I don't know what kind of person she is going to grow up to be, but I want her to live in a world in which there's a way to be a Camila, a Simone, a Karen, or a Daisy Jones."
Ciara confirmed weeks ago that her new album 'Beauty Marks' would arrive this May, and as promised, the album made its way online on Friday (May 10). The new album is the follow up to 2015's 'Jackie.'
Ciara just dropped her seventh studio album, Beauty Marks. After leaving her longtime label, Epic Records, in 2016, the singer established her own record company: Beauty Marks Entertainment. The move was a bid to release music on her own terms, and this album is her first release under the label. Lead single "Level Up" hit No. 59 on the Hot 100 last year.
Beauty Marks has a smattering of notable features with Macklemore, Kelly Rowland, and Tekno. Outside the album's tracklist, the "Goodies" singer also reunited with Missy Elliott for a remix of "Level Up."
"There have been moments in the past when I've felt creatively handicapped just because I have to wait for the powers that be to make the decisions for me and then they take a long time," Ciara told Billboard about establishing her own company. "I'm just waiting and waiting and losing time and before you know it, six months pass by. Things move so fast and you can't hold onto records too long because the times change. And when you feel like you have something that's creatively distinctive, you want to be able to get it out there at the right time. So being able to have that freedom and flexibility is so special."
Check out all the lyrics to Ciara's 'Beauty Marks' on Genius now:
1. 
"I Love Myself"
 feat. 
Macklemore
2. 
"Level Up"
3. 
"Set"
4. 
"Thinkin' Bout You"
5. 
"Trust Myself"
6. 
"Girl Gang"
 feat. 
Kelly Rowland
7. 
"Dose"
8. 
"Na Na"
9. 
"Freak Me"
 feat. 
Tekno
10. 
"Greatest Love"
11. 
"Beauty Marks"
The follow-up to 2015's Jackie is full of empowering and feel-good bops that are sure to please longtime fans. "The feeling that I have now is parallel to when I first started," the mother of two told Refinery29. "I was this young girl excited to be living my dreams and having the best time. I'm back to that phase again."
"It's not the stage hands' fault; that stage was set up for well over an hour before Kanye decided to grace us with his presence."
Although the rapper managed to kick off his show on time this year, apparently that didn't matter much to some folks in attendance. According to people who attended the event, Kanye received plenty of boos at various points during the performance. This probably wasn't the sort of reception West had anticipated.
Entertainmentwise reported that Kanye received quite a few boos when he announced the release of an upcoming single. However, reports of the backlash escaped most mainstream outlets that recently covered West's set.
Here's footage of Kanye West getting booed. Warning: There's all kinds of foul language in this clip, so proceed with caution.
Both Spin and Rolling Stone made no mention of the audience's response to Kanye West. However, quite a few people who saw the guy perform Friday evening began tweeting about the disrespect he received shortly after the set wrapped up.
Was paying for Bonaroo so you could boo Kanye West worth it? Musical genius and pioneer, show some respect
If you boo Kanye West you can't get into heaven

— Devon (@devTHE_italian) June 14, 2014
According to the Liberty Voice, Kanye West performed in front of approximately 100,000 people during his 21-song set at Bonnaroo. While quite a few of those individuals were there to see him do his thing, apparently more than a handful just wanted to show how much they hated the guy. Also in attendance was Kim Kardashian, who seemed more than willing to show off her body to everyone with functional pair of eyes.
Although Kanye got booed during his performance, apparently that didn't stop the rapper from unleashing one of his infamous on-stage rants. In addition to taking shots at the media, Westdiscussed how much time and energy he puts into creating his music.
"I want y'all to know that anytime I'm in the studio, make a record, make a T-shirt, I give it everything I got. And when I talk that s**t, it's so you can talk that s**t. If you're a fan of me, you're a fan of your motherf**kin' self. You can go out and do anything," West told the crowd at one point during the show.
We have a special place in our hearts for Myspace. It wasn't the original social network, but it was the first to reach mass appeal and was a big part of what helped Metal Injection succeed in the early days, in terms of promotion.
Hope you had a backup: Myspace has confirmed losing data for 50 million songs uploaded to the platform between 2003 and 2015. Also in the news today: remembering Dick Dale, Shawn Mendes cleans up at the Junos, Neil Finn leaves social media in wake of Christchurch, Sam Smith comes out as genderqueer, and the Red Hot Chili Peppers play a very obvious cover at the Great Pyramids of Giza. Music in today's episode: Jahzzar – "Comedie" (CC BY 4.0); BoxCat Games – "Against the Wall" (CC BY 3.0); Sean Mendes – "In My Blood"; Sam Smith, Normani – "Dancing With a Stranger" (Cheat Codes remix); Dick Dale and his Del-Tones – "Misirlou"; Lily Allen – "Alfie"; Red Hot Chili Peppers – "Pyramid Song" (Radiohead cover); Red Hot Chili Peppers – "Give It Away"
"As a result of a server migration project, any photos, videos, and audio files you uploaded more than three years ago may no longer be available on or from Myspace," the statement says.
Neil Finn leaves social media after New Zealand massacre
Neil Finn says he's leaving social media in the wake of last week's hate-fuelled massacre in Christchurch, New Zealand. The New Zealand singer-songwriter is best-known as a member of Crowded House and, recently, Fleetwood Mac. On Twitter, Finn wrote, "Out of respect for the grieving families of Christchurch and in consideration of their vast public tragedy I will no longer take part in social media. These platforms have enabled the spread of hateful ideology and I will not participate anymore." (Billboard)
Sam Smith comes out as genderqueer
Singing star Sam Smith says, "I am not male or female. I think I float somewhere in between." He opened up about his gender identification during an interview for a new Instagram show called I Weigh Interviews. He added, "Non-binary/genderqueer is that you do not identify in a gender. You are a mixture of all different things. You are your own special creation." Although some non-binary people prefer gender-neutral pronouns, Smith says he'll continue to use male pronouns for now. (Vanity Fair)
Smith's latest release is a Cheat Codes remix of his Normani collaboration, "Dancing with a Stranger."